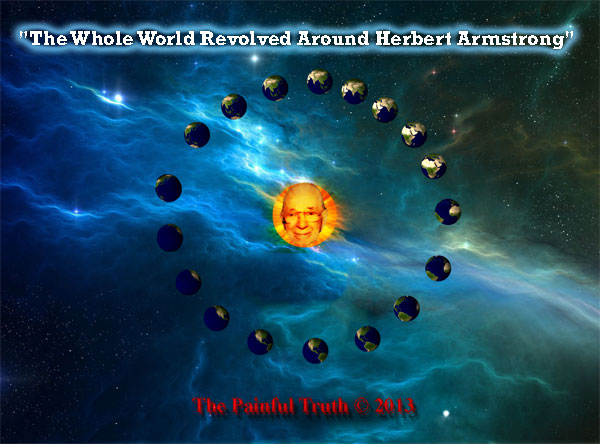 While the actor Johnny Depp was still a bachelor, a single man asked him if he could give advice on dating and Johnny Depp's response was something like:
Don't ask me, I don't know, I'm as screwed up as everybody else.
It's a good honest answer of the sort we wish we could get from the leaders and ministers of the Cult of Herbert Armstrong: Herbert Armstrong never gave such answers himself — being a "know it all" kind of End Time Apostle — and his followers since have followed in the same rut he established decades ago in the last century, being full of instant answers backed by booklets, literature, magazines and websites of every stripe answering every kind of question and even answering quite a few that were never asked, projecting full confidence that their answers are all true, useful, scientific and unassailable.
The Cult of Herbert Armstrong is full of itself, puffed up in full arrogance, confident in its overweening ego, that the only truth is here with them and you dare not go anywhere else because, if you do, disasters will surely follow, you will be in deep trouble, you will have terrible problems, living in want and fear with no one to rescue you: You will be sorry, because you should have listened! The entire venue is designed to put you in fear so you will submit to the superiority of those who dominate and manipulate you. These self-made Gurus are experts in every subject — at least every subject of any importance. They are the only ones with wisdom and knowledge of any use.
These arrogant Gurus suck you in with something you've never thought of, attracting you with curiosity, snaring you initially with something you agree and believe in, gaining your trust with something familiar and then leading you down the primrose path of kook insanity.
Here is an analogy which may help you understand the process:
The world is NOT Flat!!!! We can prove that the earth is absolutely NOT Flat!!!! Brethren (gaining your trust by sucking you into the conspiracy of the brotherhood), you KNOW what I am saying is true!!!! You KNOW I have the truth!!!! You all know (making you part of a collective) the Earth is not flat!!!! People who tell you the earth is flat are WRONG!!!! They know it is wrong, yet they continue to spread this terrible lie!!! I can prove the world is not flat!! You know what I say is true!!! Haven't you wondered about this truth???!!!? Have you proved it for yourself???!!!?? Write for our free booklets, The Earth is NOT Flat and Seven Proofs the Earth is not Flat! You need this information, never brought to you before!! For 1900 years, this truth has been hidden — a few have known — but now you can know!!! There is no obligation, no one will call on you — it is all free of charge.
Now you know the world is not flat, but did you know that the sun revolves around the earth???!!!??? You may not have thought about it, but you see it every day: The sun comes up over the horizon of the round earth and runs its course in the heavens and sets in the West!!! You've never heard this truth before! Scientists are trying to cover this up! But don't believe me, believe your Bible! The Earth is round and it is in the center of the Universe because God has chosen us to make us gods! I am the only one with this truth! You can become God as God is God, but only if you believe in the truth of key to Godhood, which is that the sun revolves around the earth!!!! Be sure to write for our free booklet, You can become God because the Sun Revolves Around the Earth!
This is all delivered with confidence to the point of arrogance so you will believe that he believes and in believing he believes, you will believe.
Johnny Depp said:
I think everybody's nuts.
There may be some truth to that.
Consider the absolute arrogance of a man who belongs to an organization and then begins to think that he, and he alone, has been touched by God with an understanding that no one else has, and his mission is now to go forth to preach this new truth to everyone, no matter how silly and stupid it is. Often, this "revelation" is accompanied by a psychotic break, leading to the manic phase of the bipolar disease cycle. This self-styled Guru will insist that he was humbled — a recounting of his initial depression — where he was nothing but "burned out junk", but when the manic phase kicks in, he will be able to recount the "joy" that his God has renewed him and given him a spirit of understanding that others do not have. And then we are off and running.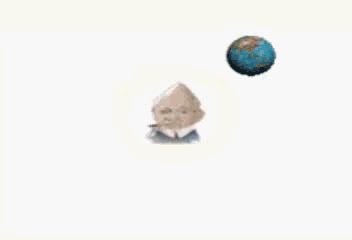 Even as unqualified as our new Guru may be, steeped in arrogant incompetence, he manages to dig himself deeper into his pit of arrogance studying without any real understanding of subjects he's undertaken in his pursuit of his new "truth". He's already lost his business / job. He is mentally incapacitated. Yet he is self-deluded that he's been given brilliance given to him by the endorphins stimulated by sleep deprivation in his manic mode. He has "up" times and he has "down" times. Sometimes the "down" times leave him in such a state of depression he can't even get out of bed, or, if he does, he won't be up until mid afternoon. He can disappear and be unavailable for weeks at a time, shunning human contact or at least severely limiting it. After months of this, he finally emerges fully engaged in arrogant narcissism to take on the world as some new savior just emerging from his cocoon. He then thunders his message to the world. Or if he's like Robert Thiel, he does significant squeaking.
The problem is that arrogance is infectious, like a virus that mutates as it is transmitted from person to person. Once caught, the arrogance does its damage and often becomes chronic. Now when it is transmitted from Guru to simple follower it is transmogrified to be an arrogance that the follower now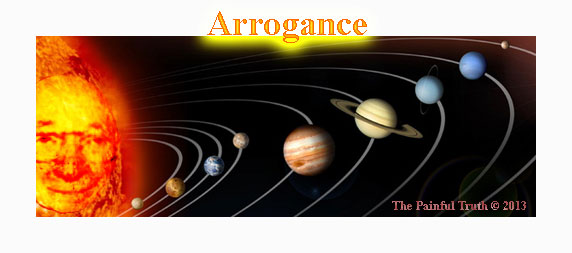 knows special secret knowledge — but much less than the Guru. This sort of infection makes the follower proud, but it also propels him or her to infect others, but in the process, the followers do not gain infected followers for themselves, but direct the newly diseased to the Guru.
Moreover, the Guru, finding a modest success in infecting others through his arrogance and making them arrogant themselves, but still subservient to him as "Patient Zero", he trains some of a small cadre of followers in his special laboratory of infectious virtual mental disease to be special carriers of the virus of arrogance. These manifest the disease with different symptoms: They are special and seize arrogant power over the followers of the Guru while remaining in his domain of disease. They lord it over the followers as being superior by virtue of the fact that they know more crap than the follower simpletons do and the followers are impressed with the advanced qualities of the leaders as being superior to them.
It should be noted that this sort of arrogance of ignorance is widely spread. According to the Watchers of Deniers, scientific literacy has reached ever plunging lows showing that United States Adults and Students believe:
Sound travels faster than light (14%);

Disagree that the center of the earth is very hot (20%);
Disagree that the Earth goes around the Sun once a year (33%);
Disagree that astrology is not at all scientific (41%);
Think antibiotics kill viruses as well as bacteria (45%);
Think that ordinary tomatoes do not have genes but genetically  modified tomatoes do (49%).
According to the article — to be much more clear — one-third of of American Adults / Students believe the Sun revolves around the Earth.
Really.
They believe.
33%
We're stunned.
Very disturbing.
Imagine if you must, how much damage an arrogant Guru can do?
Imagine if you must, how much damage an arrogant Guru can do by inducing his followers to believe in British Israelism as the Key to Prophecy — managing to get all of the prophecies wrong — but having the followers believe that he is the End Time Elijah, which we must point out, that Elijah was a prophet, so no matter how you slice it, Herbert Armstrong actually was a false prophet.
There is, however, a built in mechanism to defend the arrogance of the leader, authorities and followers against being inoculated with the truth: Bald face arrogant lies. The Fragmentation of a Sect: Schism in the Worldwide Church of God by Dr. David V. Barrett quotes Richard Nichols, Herbert Armstrong and Richard T. Rittenbaugh to show how this works:
The offshoots deal with the problem of Armstrong's failed prophecies in different ways. Richard C. Nickles, of Giving and Sharing Ministry, quotes Armstrong himself from an early World Tomorrow radio broadcast:
A terrible famine is coming on the United States, that is going to ruin us as a nation inside of less than twenty more years. Alright, I stuck my neck out right there. You just wait twenty years and see whether I told you the truth. God says, if a man tells you what's going to happen, wait and see. If it doesn't happen, he was not speaking the word of God, he's speaking out of his own mind. If it happens, you know God sent him.
Nickels comments, "The twenty years is long past! Herbert Armstrong labeled himself a false prophet."
But Richard T. Ritenbaugh, of the Church of the Great God, comes to a different conclusion. Although he accepts that Armstrong "made many predictions during his ministry, and many of them have not come to pass. Some were plain wrong. Some were vague. Some were specific," he then argues:
So what are all those predictions Herbert Armstrong made? Rather than call them prophecies (which they were not) and him a false prophet (which he was not), his predictions were more correctly speculations, theories based on true but insufficient and unclear evidence. Speculation is not sin.
It is if you sign it "In Jesus' Name".
Richard T. Rittenbaugh.
Liar.
What a Dick.
At minimum, a religious leader that makes wild prognostications [make that read: Prophecies] which do not come to pass, simply cannot be trusted to get anything right [make that read: Is a false prophet]. Read 1975 in Prophecy again [published in 1956] and if you aren't embarrassed to have believed it at some point, there's something seriously wrong with you.
It is arrogance that moves the leaders to declare that white is black, black is white, lies are truth, truth is lies, love is hate, hate is love, poverty is prosperity, prosperity is poverty, speculation isn't prophecies and that failed prophecies don't make a man a false prophet, but it gets worse, because if it were just the arrogance of the leaders, the membership would bolt like scared rabbits.
It is arrogance that keeps the members in place, even after their leader is proved to be wrong, a false prophet, crazy and even a convicted felon. Members of Ronald Weinland's Church of God – Preaching the Kingdom of God (PKG) continue to not just follow him but continue to give him their money so his wife can go travelling, buy underwear from Victoria Secret and have all those diamonds she sports, even as he sits in prison for Income Tax Evasion as a convicted felon. He isn't going anywhere for the next three years and neither are his followers. They believe in him. They lap up all the crap he spews at them. They won't leave. They continue to defend him, even though his absolute set dates (multiple and progressive) for the return of Jesus Christ come and go, come and go and still, no Jesus. The next date is coming up less than 50 days from now. It too, will come and go, but the PKG membership will stay because of their infernal arrogance. They will not admit they are wrong. They will not change. They don't stop following their false prophet proved wrong again and again. That takes a LOT of arrogance.
History has repeated itself: You just wait twenty years and see whether I told you the truth. God says, if a man tells you what's going to happen, wait and see. If it doesn't happen, he was not speaking the word of God, he's speaking out of his own mind. If it happens, you know God sent him. The only thing that is different is the time period. Ronald Weinland said essentially the same thing. He's proved himself a false prophet. Since the other Cult of Herbert Armstrong sects have been making the same prophecies (but most don't set specific dates — it's always 5 to 7 years away), they too are false prophets. Ronald Weinland is just one who's the worst one caught with his hand in the cookie jar. Roderick Meredith has been able to be a false prophet for 60 years — a record hardly anyone in the CoHA sects can rival, but he keeps going on and on and on (he may die shortly, so if he does before this article is published, I apologize, but, after all, I didn't prophesy it, one way or another).
The arrogance of the leaders and the membership is asinine, but one man, Dixon Cartwright, has put together The Journal which manages to keep the arrogance alive and prosper in one place. He knows that most of the stuff in the rag is pure drivel, but he publishes it anyway. He gives nearly everyone to have a dialog, even though it should be obvious they are spewing. The Journal actively supports and promotes arrogance in its own way, to keep the arrogance alive, thereby giving the arrogant advertisers opportunity to promote their emphatic empathy entropy and the writers an opportunity to have arguments which are totally meaningless given that the assumptions upon which they are based are quite daft. There is month after month, page after page publications of stupidity disguised as arrogant confidence.
No one is about to give up the arrogance. It holds everything and everybody in place. It is the glue that holds the cultists together, except they aren't glued together, they are screwed together — but they are too bull headed to admit there's anything wrong with their wrong headed religion. It can't work and it doesn't, but they aren't about to admit it because of their arrogance, so the dysfunctional disease continues unabated. A few escape, but often it takes quite a lot at the personal level to prompt them to leave when they get to the point they just can't stand it any more.
And after they do leave, they look back at the arrogant "friends" and "family" they left behind, with their glorious erstwhile leaders, and see, even if not perceive, the great arrogance of the cult which held them prisoners for so long.
There are over 7 billion people on planet earth. Each one of us is just a small part of a giant crowd. Very few rise to the level of being noticed — but what if, what if, you had something that distinguished you as special? Suppose you had secret knowledge? Suppose that you were one of just a small few that was selected of God to have truth that no one else has? Suppose that you could feel different, special, superior? Suppose that you are so very special that you have the entitlement to be arrogant? Suppose you will become a king, priest, god, to lord over all your former critics, enemies and those who don't even notice you, let alone pay any attention to you? You can now ignore science. You can now ignore the experts. You can now ignore anyone who disagrees with you. You can remain confident that you are better than anyone else (except your Guru and his appointees) and no one can tell you anything. You are right and everyone else is wrong. You are better. You are superior. Soon, the whole world will see how special you are. You will be validated. You are a winner!
This is really heady stuff. It is the stuff of arrogance. It is for losers.
If you need to know, the earth is not flat and the earth revolves around the sun.
The rest you should be able to figure out for yourself if you're not too arrogant.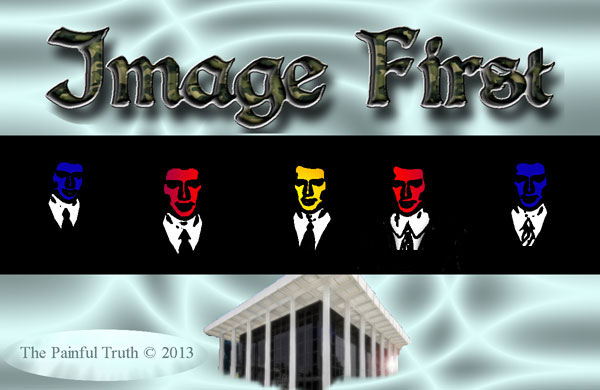 Michael
Michael stood alone in the middle of the foyer of the Seattle Masonic Hall, people swirling around and past him without interacting with him, a solitary island in the midst of a sea of people. I noticed he was new and that apparently, no one was interested in getting to know him. It made me feel sad. I went over and introduced myself to him and began learning about him. Over the next few weeks and months, I had him over to dinner with my family several times and we even went and worked out together at the gym. I learned about this "good guy" and he had a lot of depth that most people would not expect.
Michael shared with me his story about how he entered into the Marines at the age of 30. It was a matter of honor that his mates referred to him as "the Old Man" because they respected the fact that he stayed in there with them even though they were mostly a decade younger than he. He wanted to be a Marine. His father was a Marine.
Before the Passover I had broken my toes and at the Passover Service it was Michael who was to wash my feet. He looked me in the eye and said, "I ain't gonna mess with no broken toes," whereupon he washed my one foot without the broken toes. I washed his feet.
It was during the Days of Unleavened Bread that he showed up in our apartment complex in the parking lot. My wife and I looked at each other in dismay at him on the heavy duty motorcycle he had ridden on. He was all excited about it. He was a sincere believer who was going to take his brother out in the woods and talk to him about his new faith. We didn't say anything and hoped for the best.
It was shortly after this that we learned that he was on his way on his motorcycle to prepare to go out to the woods when he got clipped on his head with the mirror of a semi. It removed the top of his head and he ended up in a coma in the hospital. His face had not been affected so it looked like he was in a peaceful sleep.
Each day for nearly 40 days, I would go down to the hospital after work in the afternoon and would sit with him and talk to him because I had heard that those in a coma often heard those talking to him. I would describe the Spring afternoon and the sun shining. At the last, I was not able to get to the hospital and he had changed doctors. He died shortly afterward from the trauma. I believe it was about 40 days.
What I did not know is that Michael had shared our friendship with his family: His dad, mom, sisters and brothers. I was the only one from the church in to see him at the hospital. I had talked with his family when they were there and we got to know one another as best strangers could under such circumstances.
Because Michael was a Marine as was his father, he was given a funeral with full honors with Marines in dress uniforms giving the gun salute with rifles.
Afterward, I prepared an obituary for the Worldwide News. I learned that I had to give it to the minister. It was a paragraph and told part of his story of being in the Marine Corps.
It turns out that I gave it to Dennis Luker after services on the Sabbath. He told me that he had met the family and when they told him about me, he said to them, "Oh, he's so quiet!". This produced laughter from Michael's family and they instantly knew that Dennis Luker knew neither Michael nor me. He was attempting to cash in on an opportunity by pretending to be someone and something he wasn't and got caught at it.
Eventually, the obituary made it to the Worldwide News. It was a sentence long. It was a brief sentence at that. Michael _____ died…. That was about it. Name, no rank, no serial number. It was crisply impersonally efficient.
During my brief discussion with Dennis Luker, he did something odd: He stroked my stomach as if it were a bowling ball. It was weird and creepy. Very weird and creepy. Very very weird and creepy. I just stood there and allowed him to do it. After all, this was God's Evangelist of the Worldwide Church of God — the very Work of God. Many of us had been conditioned to be subjected to authority without question — to accept what was truly unacceptable, because the Very God of the Universe would support them even if they were wrong.
I vaguely felt as if I had been raped.
The important thing here is for the alpha male Corporate Executive to assert his superior dominance over an underling to maintain Corporate Order and insure the proper image for the Corporate Executive in the hierarchy of the Corporate "monkey tree" where all the executives are striving to be "top banana".
The Magic Lantern
Moral Mazes: The World of Corporate Managers by Robert Jackall covers the ground occupied by the Armstrongist Worldwide Church of God and their Church Corporate spinoffs — not specifically, but in practice, since all the participants follow the same thinking and practices of those in the Corporate 200. Chapter 7, The Magic Lantern, covers the aspects of image creation for the purposes of public relations:
The need for symbolic dexterity, particularly the ability to fashion, quickly and readily, appropriate legitimations for what must be done, intensifies as one ascends the corporate ladder. Since the success of large commercial bureaucracies depends to a great extent on the goodwill of the consuming public, ambitious managers recognize that great organizational premiums are placed on the ability to explain expedient action convincingly. Public opinion, of course, constitutes one of the only effective checks on the bureaucratic impulse to translate all moral issues into practical concerns. Managers not only face the highly specific and usually ideological standpoints of one or another "special-interest" group but, even more fearsome, the vague, ill-formed diffuse, highly volatile, and often irrational public opinion that is both the target of special-interest groups and the lifeblood of the news media. Those imbued with the bureaucratic ethos thus make every effort to mold public opinion to allow the continued uninterrupted operation of business. Moreover, since public opinion inevitably affects to some extent managers' own conceptions of their work and of themselves, public goodwill, even that which managers themselves create, becomes an important part of managers' own valued self-images. In this sense, both moral issues and social identities become issues of public relations.
Dennis Luker had been in the Corporate World before his induction into the Church Corporate and had obviously learned the lesson of being a triumph of image over substance. An examination of his Master's Thesis yielded a window into this world, confined by the strictures of the lessons of being a Regional Pastor: It was not anything like the Master's Thesis next to it on the shelf, Dr. C. Paul Meredith's Satan's Great Deception, which could be described as having intense spiritual content, but instead dealt with the purely physical aspects of deciding whether or not a visiting minister was to stay in the home of the Regional Pastor or at a motel nearby and making sure that the car was washed before sunset on Friday. People forget the mechanisms driving the engine of the Armstrongist Churches of God are the tactics of modern corporations, not the "Spirit led" assemblies of Christian ministers, disciples and apostles of the distant past: It's business. Businesses are for the purpose of making a profit. To do this, the end justifies the means — the end being making profit, both in money and membership (used as a tool to sustain the ego of the narcissistic leader(s)).
This creates a new virtual world which is nowhere near the one the rank and file live in. Robert Jackall explains:
In fact, bureaucratic contexts typically bring together men and women
who initially have little in common with each other except the impersonal frameworks of their organizations. Indeed, the enduring genius of the organization form is that it allows individuals to retain bewilderingly diverse private motives and meanings for action as long as they adhere publicly to agreed-upon rules. Even the personal relationships that men and women in bureaucracies do subsequently fashion together are, for the most part, governed by the explicit or implicit organizational rules, procedures, and protocol. As a result, bureaucratic work causes people to bracket, while at work, the moralities that they might hold outside the workplace or that they might adhere to privately and to follow instead of the prevailing morality of their organizations situation. As a former vice-president of a large firm says: "What is right in the corporation is not what is right in a man's home or in his church. What is right in the corporation is what they guy above you wants from you. That's what morality is in the corporation."
This explains well why Roderick Meredith and Dennis Luker tolerated the behavior of Garner Ted Armstrong without saying one word or leaving: They were loyal to the corporation and their morality revolved around what Herbert Armstrong wanted from them. A good part of that was the image making part of the coverups to insure that the Corporation continued and prospered. In this world, what mattered was not the good of the members, but the good of those in the "middle management" and above, specified by rank. Dennis Luker would favor those in congregations who were wealthy — especially those were millionaires. His own children, in fact, married the children of a millionaire in his congregation. He could be close "friends" who could further his agenda, pursuing his career in the Armstrongist Churches of God along with the salary and the hoped for retirement it would bring. In fact, many have commented about his sermons over the years filled with his concerns about this very topic. Many times, those who were "different" or "lowly" may not have had such favor in his eyes, but he was able to maintain a calm demeanor which belied his true feelings, making it seem that he was personable and a concerned pastor.
Moral Mazes includes a comments from executives relevant to truth:
Everyone out there is constructing reality. We and our clients have perceptions too. Who is telling the truth? Is there anyone out there who has the time and inclination to sit down and truly evaluate the many situations.
That's a good question, especially considering "The Present Truth" of many of the leaders of the Cult of Herbert Armstrong.
Truth? What is truth? I don't know anyone in this business who talks about the "truth".
That's actually true: Perceptions are transformed so people believe they have the truth. Anyone who has seen the many "prognostications" of Herbert Armstrong and others should eventually come to the conclusion that they don't have anything even close to what we could call "truth". There is no reason to trust such people. They have proved their lack of integrity.
It should be noted that the chapter after The Magic Lantern is Invitations to Jeopardy.
In the end, we should all observe the aphorism of G'Kar in Babylon 5: "Let me pass on to you the one thing I've learned about this place. No one here is exactly what he appears."
In fact, in the world of the Cult of Herbert Armstrong, nothing is exactly as it appears, including the smarmy image of those who portray a deeply caring persona.
Anyway, those who are wise will make it quite irrelevant by leaving the entirely dysfunctional environment where there is no real benefit to sacrifice resources and sanity to the Corporate Executive image makers conducting little more than a PR campaign for ego and money: It's not worth it.
For those of you in the process of leaving the Cult of Herbert Armstrong, a piece of advice: Set boundaries.